Lecturer/Scientist/Poet/Comedian/Creative Writer, University of Sri Jayewardenepura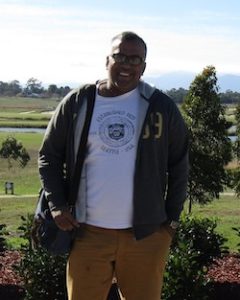 Dilantha Gunawardana is a molecular biologist by training, yet identifies himself, as a wordsmith, papadum thief, "Best Laksa" seeker, poet of accident and fluke, hoop-addict, a late bloomer on all fronts, ex-quiz-druggy and humour-artist, who is still learning the craft of poetry. Dilantha lives in a chimerical universe of science and poems. His poems have been accepted for publication /published in The Writing Disorder, Heart Wood Literary Magazine, Canary Literary Magazine, Boston Accent Lit, Forage, Kitaab, Creatrix, Eastlit, American Journal of Poetry, Zingara Poetry Review, The Wagon and Ravens Perch, among others. Dilantha has two anthologies of poetry, Kite Dreams (2016) and Driftwood (2017), published by Sarasavi Publishers, and is working on his third poetry collection, The Many Constellations of Home. Dilantha was awarded the prize for "The emerging writer of the year – 2016" in the Godage National Literary Awards, Sri Lanka, while being shortlisted for the poetry prize, in the same awards ceremony. Dilantha is a dual citizen of Australia and Sri Lanka.
Dilantha blogs at – https://kite-dreams.com/
Dilantha's research lab is based here – https://meanderingscientistblog.wordpress.com
https://meanderingscientistblog.wordpress.com
Sessions:
Landing here soon.