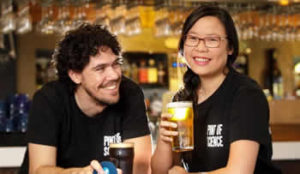 When: Tuesday 13th November, 9:15am – 11:15am
Where: Theatrette, Level 2 behind the registration/foyer area
Hashtag: #T3
What better way is there to learn about cutting-edge research than over a brew?
Well, it's nothing new … it's science in the pub. It's been done before, and we'd almost be brave enough to guess that almost all the science communicators at the 2018 ASC conference are pub-science veterans. So how is Pint of Science anything more than just another pub event? What makes us different? And why do volunteers, speakers and venues want to get involved?
In this talk, we'll pull apart what makes Pint of Science unique by looking at the ways the festival engages its audience, speakers, volunteers and sponsors. In doing so, we will outline the recent evolution of the Australian festival and conclude with some forward thinking about how Pint of Science will continue to contribute to the broader Australian science communication landscape.
https://www.pintofscience.com.au
Session
Case studies: Cultural Institutions and Festivals
Presenter
Dr Tom Carruthers, Senior Content Producer, Australian Academy of Science and National Director, Pint of Science Australia
Jirana Boontanjai, National Director, Pint of Science Australia