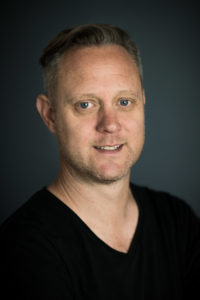 Manager, Documentaries; ABC
After studying anthropology at Uni, Stephen Oliver's first TV job involved heading deep into the West African jungle to eat monkey with a shamanic witchdoctor and his 58 wives. It's no wonder that he considers his career to have gone downhill ever since. However, in the intervening couple of decades, he has managed to write and direct many award -winning films and series, developing two distinct strings to his bow – making entertaining comedic docs about popular culture like "Skippy: Australia's First Superstar",  "Chateau Chunder: A Wine Revolution", "The Secret History of Eurovision" and "Stop Laughing this is Serious", alongside hard-hitting campaign shows like "What's the Catch?" which led to a Senate Inquiry on seafood labelling, "How to Save the World" on climate change which broadcast to over a million viewers on the opening day of Paris COP21 and "For the Love of Meat". He has since launched his commissioning career at the ABC with notable success, looking after some of the national broadcaster's biggest hits including Logie and AACTA winning War on Waste, Venice TV prize and AACTA winning Employable Me, Love on the Spectrum, Don't Stop the Music, Can we Save the Reef? and Exposed: The Case of Keli Lane.
Stephen introduced impact campaigns to the ABC, with notable success, including on two series of War on Waste, with 68% of the huge audience declaring to have changed behaviour after watching the show. He has two major climate shows in production for 2020, Fight for Planet A: Our Climate Challenge explores how we can all be part of reducing our carbon emissions and Big Weather (and how to survive it) explores how we can survive and thrive in an era of increasing extreme weather events. His tireless environmental campaign shows have since persuaded him to give up his habit of eating exotic and endangered animals.
Sessions: