Activist and stand up comedian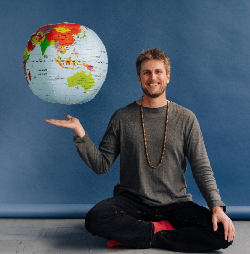 New Zealander Tejopala Rawls is a climate activist, an ordained Buddhist and a stand-up comedian. He is a graduate of Sustainable Stand up and teaches into the course alongside Belina Raffy.
Tejopala performed his first solo stand-up comedy show in the 2019 Melbourne Fringe Festival. 'Killing the Planet is Against My Religion' asks such universal questions as 'Can you attain Enlightenment by working flat out as a climate activist?', 'Can you save the world via stand-up comedy?' and 'Why the hell do I live in Australia when my Prime Minister is Jacinda Ardern?'
He has been arrested stopping the Adani mine, organised choirs of Christians to sing 'Carols Against Coal', leading to conservative commentator Chris Kenny claiming on Sky TV that "the green left is trying to steal Christmas" and has helped organise more than 150 religious leaders to write to Scott Morrison asking him to make the climate crisis his number one priority.
Sessions: