Patch Clapp, Communications Officer, NESP Northern Australia Environmental Resources Hub
Patch Clapp works as a communications officer at the Northern Australia Environmental Resources Hub,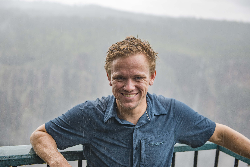 one of six research hubs funded through the National Environmental Science Program. Patch's role as a communications officer involves producing the products and planning the activities that will help deliver research findings to those who can use them most effectively. While studying marine biology and journalism, Patch found that the intersections of science and media were endlessly fascinating and allowed him to dip into and weave among research, photos, videos, websites and words. His current role allows him to work with researchers across a suite of projects in northern Australia to support communities and natural and cultural environments. Patch has decided that northern Australia suits him and when he's not working he can be found chasing storms and stars across the Top End.
https://www.nespnorthern.edu.au/
Sessions:
Communicating research for impact: making a difference in northern Australia